These sculptures of perfume bottles have been created to highlight the luxury good branding nature of contemporary art and celebrity artists. They are functional hollow containers but slightly oversized to emphasize their artistic purpose. They have been handmade in glass and designed to reflect the brand essence of three British artists. Each concept was developed to echo in a parody the marketing characteristics that might have helped to make each of these artists famous and successful; such as the use of a playful character, shock or sexy, provocative messages or artworks.
Zaniol has also commissioned a perfumier to create three original fragrances that respond to her fictional brands brief. Such fragrances are not for sale here, but you are welcome to contact the artist to come and smell them; they are on brief, very pleasant and professionally made.
The sculptures were made thanks to the technical support of Max Jacquard and Lee Mulholland.
Please note that these bottles and fragrances have not been endorsed, approved or vetted by the three celebrity artists whose artworks and/or image they parody, satirise or pastiche. They are fictional perfume bottles but high standard, skillful, limited edition artworks.
Featured artworks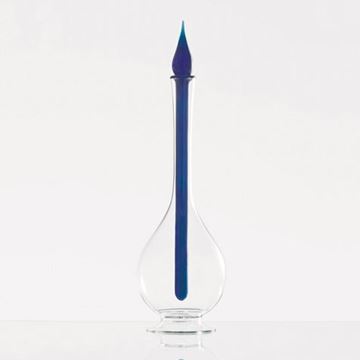 Hand blown glass, clear and stardust blue The top drop functions as a bottle closure and the test tube as a liquid container. 16cm X 5cm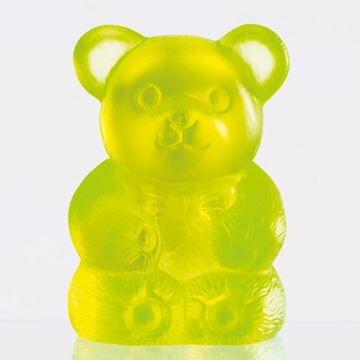 Limited edition casted fluorescent glass sculpture
Size: 9cm x 9cm x 4cm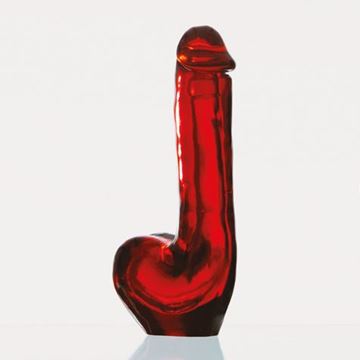 Limited edition casted red glass sculpture
Gold Ruby - full lead crystal from New Zealand
Size: 22x9x4cm