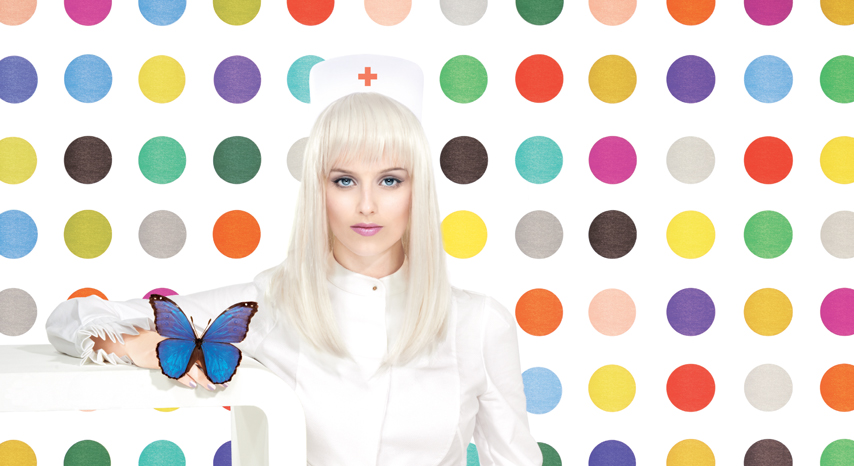 Brand Art Sensation Project - May / June 2015
Giulia Zaniol's London-based solo exhibition and study called into question three of Britain's most influential art personalities and how they have blurred the lines between luxury labels and fine art. Zaniol has taken to the extreme how contemporary artworks in some cases look as if they were made for commodification and follow "brand stretching" principles to sell art commodities at different levels. At one end, the large scale artworks for the super rich elite and on the other end scarves, books, and postcards for the general public.
Zaniol has developed a brand name for each one of her fictional artist's brands: Diamonds & Heist, Eminent, and Miss Clair and created special fragrances, sculptures of perfume bottles, scarves and even a spoof perfume video that reflect her parodic interpretations of the three artist's 'brand essence.'
The launch of Brand Art Sensation was supported by a series of billboards in East London that asked the public to join the debate.
Billboard 1: Does being a celebrity add to the value of an artist's work?
18th - 31st of May - 186 Hackney Road / Hassard Street, E2 7QL
Billboard 2: Are artworks and luxury goods of equal value to society?
1st – 14th of June - 469 Bethnal Green Rd / Hollybush Gardens, E2 9QH
The exhibition was organised at Gallery Different in Fitzrovia. This project has also been supported by academic essays written by The Luxury Research Group and Zaniol's study titled Brand Art Sensation: From High Art to Luxury Branding? has been published on Cultural Politics, Vol. 12, issue 1, March 2016 by Duke University and the Muse Project.
This website is devoted to art, design and education and your data will not be shared with any third party.