by HollyGale Millette
If you have ever seen Grayson Perry's Head of a Fallen Giant (2007 – 8, Bronze) – a Nietzschean death mask of a sculpture riddled, not with this the syphilis that took that philosopher but with artefactual representations of waning British male pride in the second half of the twentieth century – you would be forgiven for thinking of him as 'Butch'.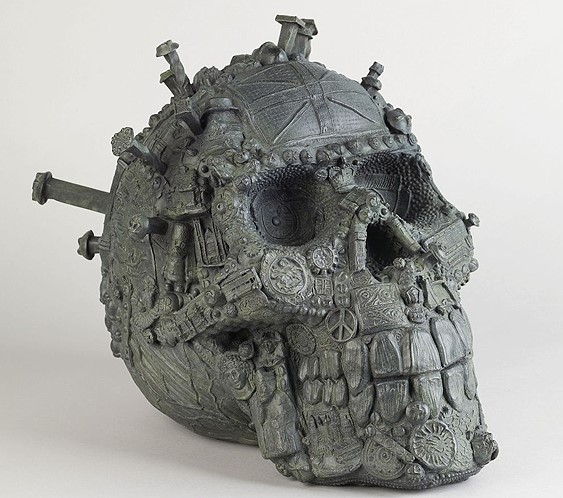 I love this sculpture for many reasons, not the least of which is how it sets out Perry's gender discourse as manifesto. Perry is deeply interested in class, power, and men in Britain, and in how these perform. His recent guest editorship of The New Statesman (October, 2014) followed Russell Brand's neatly with a neo-liberalist deconstruction of what he calls, 'Default Man'. As a pre-teen he was, indeed, very interested in guns and soldiering. This slipped away and was replaced by a penchant for motorcycling. At some point, in between the era of the guns and the era of the pistons, Perry began playing with dressing up in women's clothes and with S&M and bondage fetish. The bondage fetish is complicated and has its roots in the longed for 'embrace' of the absent parent/s, but the dressing up, Perry acknowledges, is about the attention we all crave: "Little boys don't get that kind of attention for just being, which little girls get. Nobody says to a little boy, 'You look lovely today, you precious thing.'" (Fallowell, 2005:8) Thus, The Sunday Times could never have been so unintentionally apt as when it poked fun at Perry's investiture in January of 2014 by inserting a speech bubble above his matching hat and dress ensemble that contained the barb "Do you dress like that to get attention?" aimed squarely at a uniformed Prince Charles, who was presenting him with the honour. A barb Perry would have thought up himself and put on a pot, had the Times not thought of it first. 'Yes', he does dress like that to get attention and, perhaps, a small part of the Prince does as well; we all do – artists, especially. Artists crave visibility and validation, which is perhaps why they parade the world stage with their material. Yet Perry wears his costuming and mediatised image lightly. With it, he plays on tropes of Alice in Wonderland – material that was also borne out of one man's middle cast confusion and trauma following industrial excess. However, Perry's "Alice" is less concerned with perception (or how she is perceived) and more interested in the weight of irony to be found when exploring the everyday and the unexceptional in gender.
As complicity can be misconstrued as solely the serf to the Lord of neoliberalism, so can gender-play be misconstrued as solely the complicit response to post-modern identity. In neoliberalism, complicity can be employed as a subversive (often Machiavellian) response to the modern disconnect of the neoliberal condition. Grayson Perry's gender-play behaves similarly. It arrives as an ever-present response that subverts the complicit trends and performances of identity – yet it does so tenderly. His transvestite self is, it is important to mention, not just "Clair" or "Miss Clair" but "Miss Clair Vulnerability". It is so obvious and gently reaching that it makes you wish you had one: a costume for parading your vulnerability in public so that people can pat you and tell you how precious you are. Since his rise as celebrity following his Turner Prize win in 2003, his transvestism has been embraced to the extent that it is now expected at public events. He admits it is "part of [his] brand, if you like" and that he has "become much more self conscious about it as a marketing identity." (ARTNews, 2012: 87) So, why does Giula Zaniol not capitalise on this in her construction of Perry-Branded material in her debate? I would presume because there is something much more malodorous going on here: the odour of critique and commercialization, perhaps, and because there are more fundamental tropes in Perry for her to work with. Rather than conflate pretence and mimicry the transvestite-Perry reveals the process and the vestments conflating with play and fetish. "Play" and "fetish" are perhaps the two prominent tropes in Perry's persona and his crafted material. And these are tropes that underscore all of Zaniol's work, which – as parody – is ultimately both playful and fetishized; it a send-up and an obsession. Perry admits that there is an art to English playfulness (2005: 6); that it is something to do with the "cosmic joke" and that the problem with being a celebrity or being seen as 'successful' is such that you are less and less able to play in such a way that you escape withering under scrutiny. So, what does play become when it is sent out to market – the market of the meaning-obsessed contemporary art world?
Caroline Douglas, Head of the Arts Council Collections observed that: "Perry has a personal notion of Englishness that bravely skirts stereotypes" (2008: 5). I love this phrase as it is both apt and a play on words; the pun in "skirts", can be viewed as intentional or as a happy accident – something the maker-Perry delights in. Like all of Grayson Perry's work and curating, his selections from the Arts Council Collection were formed from ideas clearly rooted in his own personal history and identity, yet they are not purely autobiographical. That Perry never strays entirely into autobiography in his material culture production, is important as it means that the material is both open access and porous: open to all, it is open also to each according to their need and identity niche. Is that not what Zaniol accesses in her parodied brands? Further, Perry admits to using auto/biography not as product, but as methodology and as an analysis tool, which is a note that Zaniol capitalises on with her product design – each brand situated in one biographic identity – and in her participation in its design as model and maker. The Walthamstow Tapestry (2009) is a most favourite example of this kind of multivalent biographical working and it one that is more overt in its reference to branding.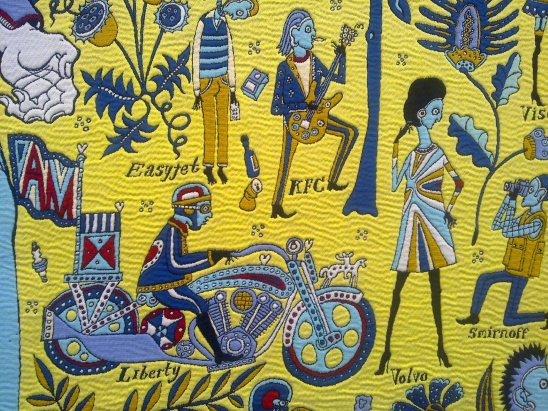 Like pottery, tapestry is an underdog's medium in art circles. Once highly prized – luxuries that only nobility could commission – they ceased to be an Artisan's labour well before mechanisation of the loom. The tapestry was traditionally used to depict a pilgrimage and/or a life's journey. Perry, never straying from his fascination with class and prosuming, produced in the Walthamstow Tapestry such a journey, but for the brand-brainwashed aspiring lower classes of East London. In it, Perry looks at how bands "summon an emotional residue" (his words) along the life-path (2010:20).
The banks of the central river that runs through the room-long tapestry are filled with figures that cross the path of the life being depicted; figures identified by brand names. In a sense, the tapestry can be imagined as a 1990's rave for brands: Visa, Liberty and Smirnoff all stupefied and loved-up, dance together on a British textile field. Not a million miles away from the methodology qualitative market researchers employ every year: when a brand commissions market research in order to determine or forecast its brand-positioning, one of the questions their focus groups are asked is 'if this brand were a party, what kind of party would it be?' In the tapestry Perry makes Branding integral to daily life, whereas in Brand Art Sensation Zaniol extracts it to query its consistency and relationship as Art. Her Brand-Perry connects to his most open of admissions that that he is a transvestite who plays with archetypical images of sexuality and gender. This gender play runs the gamut of representation in his material production but with Zaniol it connects in her fragrance. The Teddy fragrance envelops with that same powder-puff smell that lingered on my grandmother's dressing table long after she had passed away. Yet there is something else deep inside this scent; something reminiscent of diesel fumes spent on worn leather. Teddy is a nostalgic, conservative, gender-blurred scent, perfectly 'on-brand' and on target.
Some of the most irreverent and sensational objects of Grayson Perry's design have featured in the most Conservative temples to mainstream artefact such as the British Museum. The machine embroidery featured on his High Priestess Cape (Perry, G. [2007] Embroidered textile, rayon on satin, 96 x166 cm) is particularly synchronic with the articles and artists Zaniol features elsewhere in her debate, and so I will rest for a moment – (take that as you will) – on this image of an exotic flying penis. Unlike the sensation such imagery would cause in the hands of other artists – Emin, for example, deploys such imagery in controversial statements of selfhood, class and irreverence – Perry's flying penis is magical; a colourful bird transmogrified in the safe (yet cutting) materiality of irony and play.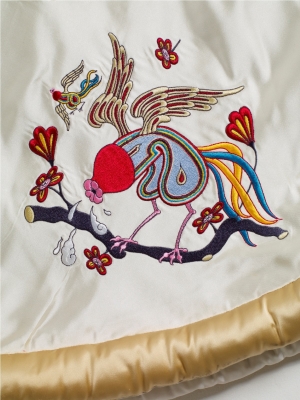 The etymology of the term transmogrify acknowledges the transformative affect (ideologically or psychologically) of material, while also signalling the magical effect imbricated by the process. Transmogrified material is often inscribed (on, or within) with blatant or hidden narratives or coda, but is presented in stories that are familiar to us in the everyday. Further, transmogrified material is often the subject or object of myth and mythmaking, such that its contextual relationship is intrinsically – and irrevocably – situated in the culture it is formed out of. Such material often possesses an immature behavioural pattern in that is creation or display is seemingly haphazard and subject to whim, play and impulse. This jaunty theatre of irony and play (Cohn-Bendit: 2000) jolts people out of their consumptive malaise by jabbing and provoking them to respect and revel in the agentic freedom of exotic selfhood – in this case, the masturbatory male organ cloaked in carnival feathers.
Grayson Perry's cape and Giulia Zaniol's perfume bottle are each transmogrified material, but material that is singular and expensive, yet seemingly accessible. There in Perry's material or in Zaniol's, that is unfamiliar. They both offer pedestrian material that is luxurious in its familiarity – accessible and yet, seemingly, un-intellectualised. Like Perry who despairs of the false intellectualising of the art community and its commentators, Zaniol, with her mass debate – a clear play on the term, 'masturbate' – is working through the same irksome and empty elitism.
"Artists", Perry complains, "are remarkably good at being the weavers of the emperor's new clothes as well as being the emperor. Sometimes they clothe themselves in the stuff, but they don't need to. Often the best artists are totally honest about why they make stuff." (New Statesman, 2012: 26)
If Giulia Zaniol did not take this comment as a cue to begin her process, she most certainly has responded to it in product. In his Unpopular Culture exhibition – Perry looks backward with nostalgia performing as an antidote and provocation to the 'art as asset' debate. More recently, and in his Playing to the Gallery (2014) he continues this debate with broad queries: is monetary value thesign of quality? How is validation produced? How and why has materialism become talismanic? Now Zaniol joins this debate and democratises it with her billboards and twitter feeds. In Unpopular Culture Perry was at his most defiant and anti-consumerist. His materials were and are ones of symbolic meaning and iconography, grounded in nostalgia and consumption. The headscarf he designed for exhibition, for example, was a saleable, silky symbol of womanhood in a period and a class that millennial femininity has somehow forgotten – Perry has since admitted his fetish (one of many) for headscarves (2013: 43). Very 'on-brand' then for Zaniol's to produce them for her show – an ideologically available, consumable artefact from the debate that you might buy, but unlike Perry's scarves, Zaniol's are not to worn. Moving away from high-street accessibility, her framed edition of twelve-print scarves are to be coveted as art. And in one slight twist the mundane becomes luxury.
Perry had, albeit briefly, two alternative realities of male parental loci of control in his life: his father who disappeared; and his stepfather who was all too violently present. In seeking a model for how to be male, his rich interior life took over, borrowing what it could from real-life disappointment, popular culture and fantasy. He placed his Teddy Bear – Alan Measles – centre stage in this place: the ruler of his interior life and sounding board for new, conflicting, powerful, or subtle emotions as they arose. The fantasy Teddy/Alan became the figurine – or, if he was a pot, the vessel – into which all the demonstrativeness that Perry may have yearned for, felt, possessed, or was grappling with but could not risk disclosing could be placed. Here, in Brand Art Sensation, Teddy is also a vessel, into which a distillation of identity if poured, marketed, branded and disseminated as scent. As Perry grew up, Alan Measles was replaced by fetish play in various forms. A fetish, explains Perry to the uninitiated, is a safer way of encountering human relations as you shift desire and loathing slightly and away from interaction with the person. So, and for example, "[i]nstead of loving the woman, you love her high-heeled shoes." (2006:52) Or, alternatively, if you do not get enough hugs from your mother, you desire being wrapped in sheets, saran, or PVC. What is up for debate then and in Zaniol's work, is to what degree and to what depth have brands penetrated our consciousness as fetish? And how, and in what way, does the addition of celebrity into the chemical mix transmogrify this into 'art'? I agree then with Faiers, that this debate indicates a line of enquire that links commerce, art, and identity with the senses. Perry's craft is in turning feeling or desire into everyday metaphor. His turbulent childhood was poured into Teddy who was his metaphoric and talismanic saviour and his personal deity. Subject material such as this that Zaniol is playing with in this debate and what Perry manipulates in his pots and tapestries, is material that is deeply familiar to us in the places where we are alone with ourselves. "One of the most potent components", reminds Perry, "of what we find beautiful is familiarity" (British Archaeology, 2012: 12) Alan Measles – now marketed here as a distillation of the material of boyhood, innocence and sex – cheers one in its familiarity, its universality, and colourful bottle. Further, and as perfume, Zaniol attempts to account for art as process [work]. Is she playing alchemist and using advertising to trap the third element; the part that is not given; the tertium non datum in Brand Teddy?In alchemy this trace element of process could, be best contained as scent as it cannot hold in any other solid form. Is this then the scent of the spectacular transmogrification of art? How on trend this debate and its objects are, then. 'People', says Grayson Perry, 'want spectacle – they want big, shocking, engaging art, colourful and funny – but they also want a little puzzle, too' (2013: 42) – something seductive enough for people to want to spend a month's pay on or be photographed with.
______________________________
References:
Dunthorne, J. (2010) "Big Mac Cult" in Tate, Issue 20, Autumn: 120.
Fallowell, D [in conversation with Grayson Perry] (2005), "Tea with Grayson Perry" in The Parkett Series with Contemporary Artists, Parkett, No. 75: 6 – 9.
Fullerton, E. (2012) "Dressing for Success" in ARTNews, September: 83 – 87.
Arts Council/Southbank (2008) Unpopular Culture: Grayson Perry Selects from the Arts Council Collection, London: Hayward Publishing
Jones, W. (2006) "Potty Training" review of Grayson, P. and Jones, W. Grayson Perry: Portrait of the Artist as a Young Girl, London: Vintage in The New Statesman 06 February: 51 – 52.
Perry, G. (2007 – 8) Head of a Fallen Giant (Bronze)
Perry, G. (2007) High Priestess Cape Perry, The Tomb of the Unknown Craftsman [2011] exhibition catalogue, London: British Museum Press.
Perry, G. (2009) The Walthamstow Tapestry, London: Victoria Miro Gallery
Perry, G. (2012) "The NS Interview" in The New Statesman, 02 July: 26.
Perry G. and Eno, B (2013) "The NS Conversation" in The New Statesman 1 – 7 November: 40 – 43.
Perry, G. [as editor] (2014) The New Statesman, 16 – 18 October.
Pitts, M (2012) "The Worship of Craftsmanship" in British Archaeology, January – February: 12.
The Sunday Times, 19 January 2014.